SkyPrivate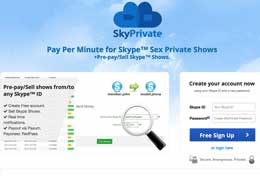 http://www.skyprivate.com
Moving The Websex On Skype
SkyPrivate is the service that brings you Skype porn. I don't know if you use Skype, but it's the best cam to cam chat service on the internet. It's fast, easy to use, and it will never let you down. This site thought that they could use this platform to offer Skype sex shows. The shows aren't free, but they are worth every penny. SkyPrivate is a bit different from what other cam sites are offering. To find out about this new service, all you have to do is read our SkyPrivate review. We took a look at all aspects of this service and you will have a better understanding about how all the fun with the sexy Skype girls is possible.
User Experience
Before anything happens, you will have to visit the site SkyPrivate.com. They have a complete how-to guide there, for both models and members. The part that should interest you is the member part. You won't have to install anything, assuming that you already installed skype and that you have an account. The whole fun will take place on Skype, but you will select the babes with whom you want to have fun from SkyPrivate.com. All the babes have profiles and their rates displayed on them. In the profiles of the babes you will be able to find many sample photos of them, even ones in which they are completely naked. All you have to do is choose a babe from SkyPrivate.com and then move the whole fun on Skype, where the real fun beghins. I presume you don't need me to review Skype for you, but in my opinion, is the perfect software through which you can have webcam sex.
Models
SkyPrivate comes with the hottest amateur models in the whole camming industry. Such hot babes can only be found on sites that are featuring shows with real porn stars. The big majority of these babes are streaming their shows from studios, so you will get some good quality streaming, usually done with professional cameras, lights and microphones, not with laptop or $10 webcams. There are models of all kinds on this site, from white teen babes to busty Ebony women and even some Matures or BBWs. The model index of the site comes with several filters that will help you browse the models based on their price, age, and genders. SkyPrivate also offers gay cams and tranny sex shows. At the moment of writing this review there were 320 models on the site. Sometimes you can find more and sometimes you can find less, depending on the time of the day and day of the week.
Prices
The prices range from $1 to $10 but most of the shows can be enjoyed at a rate of $1.5 per minute. Joining the site is free and you will be able to pay for the shows directly from your Skype balance. After you joined the site, you will receive instructions on how to put money in your Skype account. The fact that you will pay for the shows straight from your Skype balance is the safest and most discrete way of enjoying cam sex shows without anyone finding out that you do so.
SkyPrivate Review Conclusion
SkyPrivate is something very different from what we're used to in the webcam sex game. I know it might seem a bit weird at first, but trust me, you will get the hang of it in no time. The site offers clear and easy to understand instruction on how everything goes, so head over to the site now and start enjoying skype porn shows live.
Try sex shows on Skype with
SkyPrivate
camgirls!