Chaturbate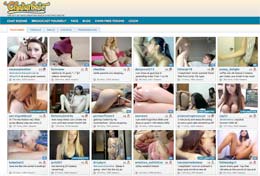 http://www.chaturbate.com
A Place For All Kinks
When it was first launched, Chaturbate.com was a small webcam community that offered fans the chance to engage in webcam sex chats with a limited number of cam models. However, a couple of years have passed, and Chaturbate became one of the most known love porn sites on the internet. Today, it features adult chat rooms for all fantasies. No matter what your kink and sexual orientations are, you will surely find something to satisfy your thirst for naughty. Babes from all over the world can be found on this site, and you will be able to have an excellent time with them because the interface of the platform offers a flawless user experience. If you want to know more about this sexy offer, keep on reading our Chaturbate.com review. We analyzed all aspects of the site so that you will know exactly what you're getting into.
User Experience
Chaturbate reinvented the cam site. Instead of filling it to the neck with filtering and sorting options, they kept things simple and easy to navigate. The home page of the member area is featuring those live models in popularity order. You can filter these models by gender and sexuality, but if you want something more specific, all you have to do is go to the Tags page. You will find there a couple of hundred keyword tags, and you can use them to create an advanced search system with the help of which your Chaturbate home page will always display the type of shows you're interested in. In the same time, the interface of the Chaturbate chat room comes with all features you need for a proper chatting experience. It incorporates emoticons and even GIFs, it features all the info on the model you're chatting with, and it comes with a tipping system about which you will be able to read in the following paragraph. The user experience you will have on this site is also available on Chaturbate mobile, which can be accessed on iPhone, iPad and Android. The site comes in multiple languages, including Russian, Spanish, Italian or Chinese.
Models
Chaturbate doesn't give us the exact number of registered models, but there must be plenty of them because the average live models count is over 400 at any given time. If you're into camgirls and camboys from America, you will find many of them here. Besides that, you will find many girls from Eastern Europe and gay boys from Asia. The tranny webcams section is dominated by Latina shemales, while the couples section is quite a cosmopolite, bringing you boy/girl cams, lesbian cams, and gay couple cams from all over the world, plus some tranny couples from Asia and South America. The site also has a great age diversity, featuring everything from teens to MILFs and lots of Mature cams.
Although the site doesn't have special sections for different kinks and fantasies, you will be able to find many BDSM cams, role-play sex shows, uniform/lingerie cams, BBW models, and almost all performers incorporate sex toys in their shows, some of them giving fans the possibility to control them. The control of some toys is done through tipping.
Prices
Chaturbate.com introduced the notion of tipping in the live sex world. You can tip the models for certain things that she will perform in the free chat room. The tipping is a fun way to get some action without having to join a model's private room. But if you want to be alone with a model or a cam couple, you will have to pay per-minute. Usually, a minute in the private room costs between 30 and 60 tokens. The tokens can be bought in bulk, and a pack of 100 tokens costs $10.99 while the 500 pack costs $44.99.
WARNING! We know about the existence of so called Chaturbate token hacks and we advise you not to click on any link that promises to be a Chaturbate token generator. Those are just click bait sites that will infect your computer. We also heard that there are some hackers out there who take control of model's personal computers and record their private shows and upload them on porn sites.
Chaturbate Review Conclusion
Chaturbate.com is the right choice if you like amateur models who know how to be naughty. I don't know how they managed to do this, but Chaturbate features some of the dirtiest sex shows with amateurs on the internet. With acceptable private chat costs and a well-designed platform, this site is surely one of the best choices you can make.
Watch all
Chaturbate
girls in action right now!