Cams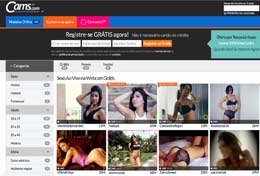 http://cams.com
Hot Live Sex Cams
Cams.com is one of the best sites in the lie porn industry, and that's both because of the experience they have in the niche and because so many people are joining it every day, allowing them to have a big budget for constant improvements and updates. From what I've seen so far, Cams is a well-built site, it has a great selection of babes, and there are no complaints about their services around the internet. In the user reviews in comment sections and message boards around the internet I only saw positive feedback for this site, which really made me want to find a major flaw about it. However, I couldn't find it. You can read all about my impressions and analysis of Cams in the following paragraphs.
User Experience
Simply put, Cams can offer a great user experience. Now let me tell you why they can do that. Even since the beginning, this site was built on a good script. It was easy for Cams.com to stay up to date with all the needs of the users. Now it offers an intuitive and easy to use platform on which you can browse the models with ease and also have a great live sex experience on both computer and mobile devices. The filtering tools and sorting options are in plain sight in their usual places, so that you can customize your search instantly. What's also cool about the site is the fact that the profile of a model is combined with her chat room. All in all, it's the ultimate platform for the ultimate live porn experience. The site also comes in nine other languages besides English.
Cams.com Models
Cams has over 14,000 models registered and depending on the time of day or on the day of the week, you will find between 350 and 600 models online. With so many chicks to choose from, I'm sure that you will find the kind of girl who can take care of your kinky needs. Besides girls, the site is also offering you the chance to explore your sexuality with some hot gay stallions and some of the best tranny cam models on the internet. You can also have fun with naughty couples of any sexuality here. Most of the babes on this site are white chicks from Europe, followed by Asians, Latinas and Ebonies. Although the site is featuring chicks and men from all over the world, most of the performers are from Europe, mainly Eastern Europe.
Prices
The cost of a minute in private chat on Cams is between $2 and $4 depending on the model's looks and popularity. If you join the site tonight, for the next couple of days you can enjoy all the private cam shows for only $0.99. If you buy $50 worth of site's credit in the third day after you created your Cams account, you will get twice as much credit as a welcoming offer. The site constantly offers bonuses and discounts to loyal members.
Cams.com Review Conclusion
After reading all the positive feedback on the Cams.com services found on the internet, I was partly skeptical. Usually, things are too good to be true because they aren't true. However, Cams is the exception for this rule. I found there a great user experience and all the services offered by them are irreproachable. This is one of the few sites that doesn't need any changes, and I don't get to say that about many sites. Join it with full trust!
Enjoy all Cams.com private sex shows recorded!