CamDolls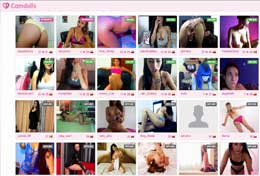 http://www.camdolls.com
Real Sex Dolls
CamDolls is one of those sites that brings innovation in the camming industry. The site comes with a great design that makes the browsing so much easier and everything is well organized. You will see how much easier it is to browse cam girls and choose the one you like the most. If you want to chat with sexy girls from all over the world on a good site that will ever let you down, CamDolls is sure a good choice. But before you head over and become a member of it, you should check out the rest of our CamDolls review.
User Experience
Although it comes with a great offer of sexy cam models, the strongest feature of this site is its member area, which is easy to use, but in the same time offers an organized browsing of the babes. Each model of this site has a personal webcam page where you will find all the information you need about her. Besides her rating, her prices and her body specifications, you will also find additional and much needed info on the model, including the hours she is usually online, any scheduled party show and the things she is willing to do for tips. Also, there are lots of categories on the site, so you will be able to easily customize your searches and narrow down the results to get the exact kind of babes you are looking for.
Models
CamDolls is one of the sites that only offers girls for live sex shows, so if you are looking for gay guys or trannies, you should pick another site. In the same time, the site is only for solo models, so no couples will enchant you with awesome sex in front of the webcam. There is a mix of girls who are streaming from home and babes who are streaming from webcam studios, but most of them are amateurs who host their live sex shows in their bedrooms. I don't know if it's a planned thing, or if it's just pure coincidence, but 90% of the babes on this site are either from Romania or Colombia. Since CamDolls is quite a new site, it doesn't feature as many models as you'd like. I think less than 1,000 babes have created profiles on this site and depending on the time of the day you log in, you will find between 15 and 50 girls online. On the other hand, the girls are quite good at what they're doing, so you will have a great experience with them.
Prices
The cost of the shows on this site is not higher than the average of the industry. Most of the babes are streaming live private shows for about $1.99 a minute. But most of the fun on this site is happening in the free chat rooms, where members are tipping the girls and everybody can enjoy the things they do for the tips. If you are looking for cheap alternative to private cam shows, this site is surely able to offer you one.
CamDolls Review Conclusion
CamDolls offers a great interface for its members, which is easy to navigate and features all the tools you need for a good user experience. On the other hand, there aren't many models on the site, which narrows your chances to find the one that's fit for you. If you like cam girls from Romania, you will find some of the best of them here, but if you are looking for something more exotic, I'm afraid CamDolls isn't for you.
Have some live sex with the CamDolls models!